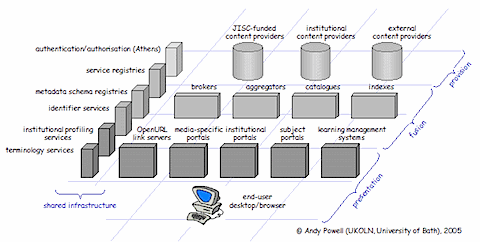 The JISC IE introduced a characterisation of service types which categorised them into one of provision, fusion, presentation or shared infrastructure. It should be stressed that this characterisation was not meant to be strict so much as it was intended to be a device to aid high level thinking around the problem space with which the IE is concerned. The fact that the iconic diagram (above) has become so closely associated with the IE is a testament to the appeal of this approach. The architecture which this categorisation scheme implies is informed by the contemporary interest in the Service Oriented Architecture (SOA) [2] as an approach to sector-wide service provision and usage, and underpins the expectation of an environment evolving out of strategic investment, machine-level interoperability through open standards, and a separation of concerns.
Largely unanticipated only a few years ago, the effect of the Web 2.0 phenomenon on how users interact with services and on how services inter-operate has been profound. The diagram above implies a flow of information towards the user: the reality today is that users expect to interact with services with richer interfaces than was the case 3-4 years ago. The idea of a distinct layer of presentation services is something which is surely challenged today, as is the positioning of provision services, somewhat remote from the user, with layers of intervening services.
Having said that, while the diagram with its divisions of provision, fusion or presentation services might appear now to be an over-simplification of how services in the IE could fit together, it was in truth never intended to be a blueprint or even an architecture.The introduction to the IE of some of the fundamentals of modern systems design, such as the separation of concerns and modularity of services encouraged by the SOA has been valuable. However, it could be (and has been) argued that a Resource-Oriented-Architecture [3] (ROA) is a better fit for the IE. We will examine the relevance of ROA to the JISC IE in detail in a subsequent post. In the meantime, we should take the opportunity to review the impact and continuing relevance of this approach.
Questions:
Is the characterisation of provision, fusion or presentation still useful? If not, is there a better categorisation we might adopt, or is this whole approach no longer useful?
How has the emergence of simple point-to-point services on the Web affected this picture?
Rather than a focus on services, there would seem to be an emerging emphasis on users and data. How should this inform the evolution of the JISC IE's technical foundations?
Further Reading on this topic:
Mapping the JISC IE service landscape [4], Andy Powell, Ariadne, Issue 36
The JISC IE: Some lessons from Web 2.0 [5] , Paul Walk, presentation to the JISC IE Working Group
Lost in the JISC Information Environment [6], Tony Ross, Ariadne, Issue 56
Lost in the JISC Information Environment? [7] a post by Andy Powell on the eFoundations blog
All models are wrong, but some are useful [8], a post (+ associated comments) on Paul Walk's blog